Further down you can also read more about Torre de la Horadada and Mil Palmeras
The town
Pilar de la Horadada is a pleasant town with a lovely Spanish character, located in the south of the province of Alicante, right on the border with the Region of Murcia. Pilar de la Horadada is still seen as a young town, but it has all the traditions and charm of a typically Spanish town.It is located about 3 km from stunning sandy beaches and it is surrounded by nature and farmland.
Inland we find the scenic area of Pinar de Campoverde . This is an urban area belonging to Pilar de la Horadada that counts with protected natural environments like Rio Seco. It is a nice area to escape to, to enjoy the wonderful scents of the pine forest and sweet smells of flowering citrus trees from surrounding plantations. The natural area is perfect for long walks and hikes, or for the more adventurous among us, mountain biking. Turning towards the sea we find many fine beaches, including Torre de La Horadada, Mil Palmeras and Higuericas. For golf enthusiasts, there are many golf courses in the area.
Pilar de la Horadada has a beautiful and modern town square where you will find many charming local shops, bars, cafés and restaurants. Along the main street "Calle Mayor" you will find several grocery stores, banks, coffee shops, bars and restaurants. The town also counts with several gyms, sports facilities, tennis and paddle courts. The public sports centre is modern and counts with a heated indoor Olympic size pool, gym, paddle, tennis and many other sports/activities.
Every Friday there is a street market in Pilar de la Horadada where you can find locally grown fruit and vegetables at good prices. Meat delicacies, cheese and olives are also available at the market. This is a very Spanish custom and an opportunity to blend in with the locals, interact with the vendors and maybe even practice your Spanish skills.
Pilar de la Horadada is a fully functional town all year round. It is also very lively, as many Spaniards live and work here. At the same time, it is also popular among Spanish and foreign tourists, but without feeling overcrowded. The environment is beautiful thanks to the surrounding cultivated landscape. All businesses and restaurants are open and below you can find recommendations for good restaurants and bars you should try.
To get to the beach, there is a pedestrian and bicycle path called the "La Rambla". It is a convenient and safe way to get to the coast without crossing any roads or running into heavy traffic. From Pilar centre it takes just under 10 minutes by bike down to the beach and about 15min to the old square in Torre de la Horadada.
What's in Pilar de la Horadada?
Grocery stores about 15
Restaurants/ Cafés about 60
Sports centers 10
Pharmacy 6
Health centers 2
Dentist 12
Bus/ Taxi Yes
What is around Pilar de la Horadada?
Airport (Alicante) 77km (50min)
Alicante city 85km (1h)
Torrevieja 19km (25min)
Cartagena 44km (35min)
Murcia city 55km (40min)
La Zenia Boulevard 11km (13min)
Here you can see Pilar de la Horadada and it's neighbourhood and the road leading to the beach/ Torre de la Horadada.
Restaurants
There is a wide range of restaurants in the area.
The following restaurants have been tried and we feel very confident to recommend them to you as well.
It is located in Pilar de la Horadada and is one of the best restaurants here. Fantastic food, very high-quality ingredients and a pleasant environment that is perfect for special occasions. Be sure to book a table a day in advance as it is very popular.
This restaurant is located on the main street of Pilar (Calle Mayor) and specializes in meats from farms in northern Spain. For meat lovers, this is a total experience. If meat isn't your thing, don't feel bad. They also have an absolutely amazing seafood counter that will not disappoint you.
Nostrissima is also located on Calle Mayor and has a nice courtyard with outdoor seating and a view into the kitchen. One of the highlights here is that you have the option to have your fish or meat cooked over an open fire and get the distinctive BBQ flavour that makes your choice even more delicious. They have very high standards for food and the environment is pleasant. The terrace is especially appealing in the evening, tastefully decorated to make you enjoy summer nights.
This gastronomic bar is found on Calle Mayor. It is a modern foodie bar with a lovely atmosphere where you can have fantastic tapas, but also delicious daily menus. Here we recommend you to try the house salad "ensalada Vinicore" with parmesan ice cream and young dried Parma ham with pine nuts and balsamic vinegar. They also sell gourmet products such as cheeses, hams and wines. Worth a stop!
For those looking for seafood, this restaurant is a must! Absolutely wonderful seafood prepared according to local traditions. The restaurant is located in the old part of Torre de la Horadada near Pueblo Latino.
This is a family owned Indian restaurant with food to dream about. Even if you are not normally fond of Indian food, you will have a wonderful taste experience. Mom and Dad work wonders in the kitchen and brother and sister make everyone feel welcome. When it's time for dessert, we recommend you try their homemade mango ice cream 🙂
Beaches
When it comes to beaches, there's plenty to choose from! Pilar de la Horadada has an associated coastal town called Torre de la Horadada or "La Torre" as it is called by the Spaniards. This pleasant coastal town offers many fantastic sandy beaches. When you take the "La Rambla" which is a walking and cycling path from Pilar you will come down first to the beach called Higuericas. Fantastic sandy beach that stretches for 1,4km. There is also a nice beach bar called El pirata, which serves food/tapas. Down on the beach there is a beach bar "chiringuito" where you can also eat and have some refreshing drinks. Continuing a few kilometers south, Higuericas turns into El Mojon beach, which borders the Murcia region. Here too there are restaurants and bars. If you head a little north, you'll come to Playas de las Villas.
The next beach you will find is Playa del Puerto which is close to the marina in Torre de la Horadada. This is another area with a good selection of bars, restaurants and ice cream parlours. The whole coastline of Torre de la Horadada has fine sandy beaches to enjoy. Torre has several pleasant squares with restaurants, bars and cosy promenades. Continuing past Torre de la Horadada, you arrive to Playa de Mil Palmeras which is located in the residencial area of Mil Palmeras. Further down the page you can read more about Mil Palmeras. Here there are more sandy beaches with plenty of restaurants & bars to explore!
Torre de la Horadada
Torre de la Horadada is the coastal town of Pilar de la Horadada. It is located on the south side of the province of Alicante.
Torre de la Horadada takes its name from the 16th century watchtower and counts with many nice beaches with blue flag rating (very bathing friendly).
The promenade in Torre de la Horadada is a perfect place to take a stroll before enjoying typical Spanish food in one of the many restaurants and bars, or having a good ice cream in one of the ice cream bars.
There are 3 squares in "La Torre". The old square next to the marina offers many good restaurants, bars and ice cream shops with a lovely atmosphere. In the marina there are various water sports facilities. In the harbour there is a nice restaurant called Pirata Club Nautico. There you can try some tasty tapas and enjoy the nice view.
The other square is called Plaza Nueva and is a relatively newly built centre with a wide variety of restaurants, bars, cafes, wine bars, hairdressers etc.
The third square is Pueblo Latino which is located in the old part of La Torre. This unique square is built in South American style and gives a pleasant feeling when taking a walk or sitting down to have a good dinner. Right next to the "Pueblo Latino" is the highly appreciated restaurant Torremar. One of the most famous restaurants in Torre de la Horadada for those who like seafood.
Torre de la Horadada is particularly lively during the summer months, but calms down during the winter months. The area is very much appreciated by foreign tourists, but also by the Spaniards themselves who like to spend their holidays in this lovely coastal town.
VIDEO ABOUT PILAR DE LA HORADADA & TORRE DE LA HORADADA
Mil Palmeras
Mil Palmeras is the district located just north of Torre de la Horadada, both of which belong to the town of Pilar de la Horadada. Mil Palmeras is a nice little village with all amenities in the form of a grocery store, restaurants, cafes, bars, pharmacy, hospital and hairdressers. Every Tuesday there is a small market in Mil Palmeras where you can buy fruit and vegetables. Bicycle paths run along the entire coastline, making it easy to get around by bike or on foot. Taxi and bus services are also available.
The promenade in Mil Palmeras allows easy access between the different coastal towns, Torre de la Horadada, San Pedro del Pinatar, and northwards towards Dehesa de Campoamor. From the promenade you can enjoy fantastic views of the Mediterranean Sea with the possibility of settling down in one of the many nice restaurants and beach bars. Playa de Mil Palmeras
The name Mil Palmeras, which means 1000 palm trees, accurately describes the area, as you can find many nice parks and green areas here. Many green areas have been kept between the buildings here, making it attractive for many to exercise or just take a pleasant walk during the cooler evenings. There are also 2 different paddle courts here for the sports enthusiast, one of which has a pool and a nice restaurant with a sea view.
During the summer months Mil Palmeras comes alive and offers a lot of activity and leisure options. During the winter season the pace slows down, but with a loyal following of restaurants and beach bars staying open, many choose to get accommodation here. The proximity to Torre de la Horadada and Pilar de la Horadada means you never miss a thing.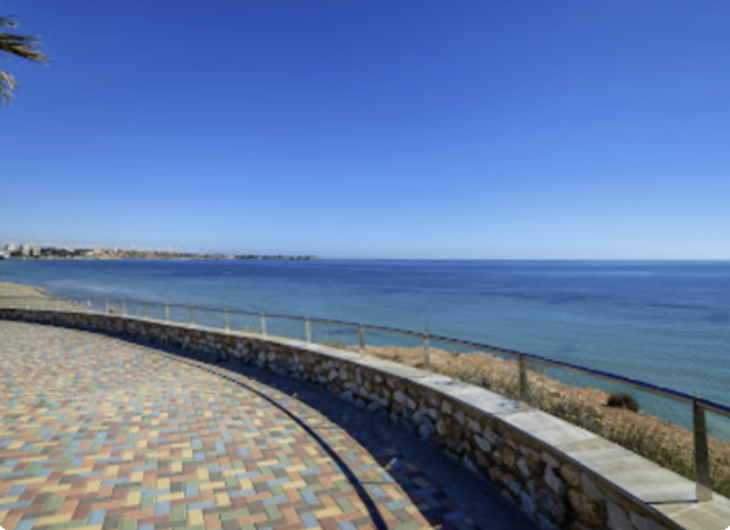 Golf
For those interested in golf, we have good news for you! This area on Costa Blanca & Costa Calida has many nice golf course to choose from according to your preference and level. Lo Romero is a nice golf course in the area and is about 9 km away. In the area there are also several nice courses such as Las Colinas Golf  which is considered one of the best in southern Spain, about 17km from San Pedro. Villamartin Golf, and Las Ramblas Golf, are 2 other nice courses located about 15km from San Pedro. But there are also several golf courses located between San Pedro and the city of Murcia. Here you will find links of more golf courses on 👉 Costa Blanca & 👉 Costa Calida.